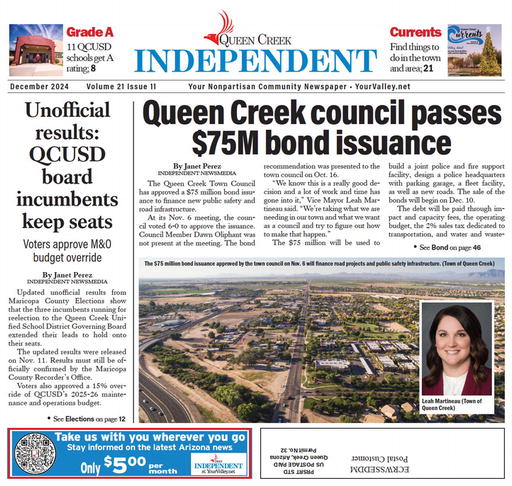 Queen Creek is where the Valley of the Sun's past meets its present. A small agricultural community in the southeastern corner of Maricopa County, Queen Creek has retained its charm amidst rapid homebuilding in the area.
The town, in the shadow of the San Tan Mountains, is unique, in its embrace of intimate schools, equestrian trails, and small businesses. "Greater Queen Creek" includes the planned communities of Johnson Ranch and San Tan Heights just across the town line, into Pinal County.
The Queen Creek Independent has been serving the city since 1999. A monthly newspaper, the Independent is mailed the third week of the month to 35,000 homes.
Advertising
Classified Advertising: FREE online classifieds. No limit on the number of ads. Up to 400 words and four photos free. Many options to upgrade your ad or publish in print. You can submit your ad online or send email to our classified team for more information.
Display advertising: Send email to our sales team or our billing team, or download a rate card for information about the Queen Creek Independent and other Independent Newsmedia Inc. publications in the Phoenix area.
Archives
The Queen Creek Independent's online archive contains staff-written and other selected articles from 2007 to the present. Searches are free. You may purchase individual articles for $2.95 or select a package for multiple articles.